What to bring to the festival if camping.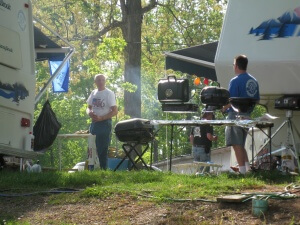 If you have a tent or trailer, you've probably camped before, so there is no reason to tell you what you should bring. But be prepared for any kind of weather: wet, dry, sunny, cloudy, hot, or cold. The festival goes on, rain or shine. Here are some things that you don't want to forget:
Low Back Chairs - for festival & campground. If you only have high backs, please set in the rear of the audience so you don't block others view of the stage.

Blankets - for ground comfort and/or warmth It can get very cold late at night.

Baggage carrier, wagon, or backpack - To carry essentials from campground.

Sunscreen - for you and the little ones.

Wet wipes - Antiseptic & hand wash.

Toilet paper - you never know.

Hats - there are large tents at the stage area but they are usually full so you may have to sit in the sun.

Insect repellent - nothing is more irritating than those gnats.

Beverage cups - all beverages should be in them. No glass bottles or cans!

Fanny pack - Keep your valuables on you, not beside you.

Rain gear - the festival is rain or shine. Be courteous with tarps and umbrellas. Please don't block the view of those behind you.

Water - There are water faucets in most of the fair buildings and it is city water.

Instruments - believe it or not, some folks buy tickets and never go to the stage. They just sit and pick in the campgrounds, and have a blast! It has been rumored that some just keep playing all night!!!

Flashlights - to find your way back late at night.

First aid kit - your little ones and big ones can get scrapes.

Earplugs - if you want to go to sleep early or sleep in quiet.

Games & activity books - for times when there are no scheduled kid's activities

Personal golf carts are allowed for licensed drivers. All liability is yours.