Camping at the Bluegrass Festival
When does camping open?
Campers are welcome starting the Thursday the week before the festival starts, May 14. It is not unusual to have over 100 campers the Sunday before the festival starts! There a $65 advance camping package that includes 1 festival ticket and 3 days camping for the price of two good for Fri., Sat. & Sun. of the festival. Additional camping and festival tickets are sold at the gate. The package must be ordered by May 1 for Memorial Day  or August 1 Labor Day festivals.
Send your $65 payment with paypal to paypal.me/NIBGA  or send a check to NIBGA, 5034 Wapiti, Ft. Wayne, IN 46804. Please include your name, address and email address. You will receive your advance package in the mail.
The festival will go on but stay tuned for updates.
Advance Camping tickets can be applied to the next festival or can be refunded if the festival is canceled due to the virus.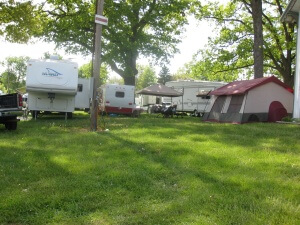 There are 34 electric boxes with 50, 30 and 20 amp service. There are also a number of 15 amp outlets located in the various buildings and on some light poles. 15 & 20 amp outlets generally will not support A/C or electric heaters. We have accommodated over 400 rigs with electric!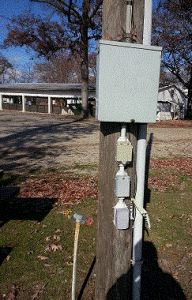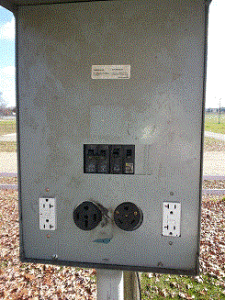 Generators only allowed in a single remote area.
There are three buildings with hot showers.
There is an RV dump station at no charge and the honey wagon is available for $15. Service days are posted on the east end of the Merchants Building.
Camping is on first come first served basis. No roping off or holding of campsites. If you want to camp with friends you should all arrive together. If you come early and drop your camper, you still need to pay a $15 per night camping fee for all days and buy a weekend ticket. The fairgrounds charges us for trailers even if they are unoccupied.
Some areas have water hookups near the electrical box.
Most locations have mature trees for shade.
Almost all the buildings have water faucets but you might need a long hose. All water is supplied by Kendallville city. We recommend filling and using your on-board water tank as needed versus a continuous hose connection in some locations.