Camping at the Bluegrass Festival
All campers must have a weekend ticket.
Camping is $15 per night including the Sunday of the festival. There is no charge for electric. Campers are welcome starting the Thursday the week before the festival starts. It is not unusual to have over 100 campers the Sunday before the festival starts!
Attending the Auburn Cord Duesenberg Festival (ACD Festival) in Auburn, IN? Camping at the festival including music tickets is less than camping at Auburn and it is only a 20 minute drive.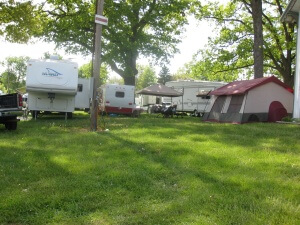 There are 34 electric boxes with 50, 30 and 20 amp service. There are also a number of 15 amp outlets located in the various buildings and on some light poles. 15 & 20 amp outlets generally will not support A/C or electric heaters. We have accommodated over 400 rigs.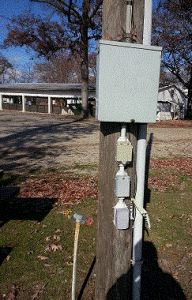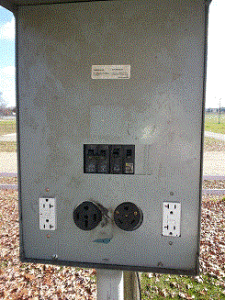 Generators only allowed in a single remote area.
There are three buildings with hot showers.
There is an RV dump station at no charge and the honey wagon is available for $15. Service days are posted on the east end of the Merchants Building.
Camping is on first come first served basis. No roping off or holding of campsites. If you want to camp with friends you should all arrive together. If you come early and drop your camper, you still need to pay a $15 per night camping fee for all days and buy a weekend ticket. The fairgrounds charges us for trailers even if they are unoccupied.
Some areas have water hookups near the electrical box. Almost all the buildings have water faucets but you might need a long hose. All water is supplied by Kendallville city. We recommend filling and using your on-board water tank as needed versus a continuous hose connection.
Advance Camping package
An advance camping package is available that bundles one weekend ticket and the three festival weekend days camping (Friday, Saturday and Sunday) as a package for $65: a savings of $15. Additional camping days, member or non-member tickets can be purchased at the gate.
Those who camp and do not purchase the advanced camping package pay for weekend tickets and 3 day weekend camping at the gate.
The advance camping package will be available until May 1 for the Memorial festival and August 1 in the Labor Day festival.
Camping prior to Friday of the festival is $15/day. There is no additional electric charge. Camping opens May 16, 2019 for Memorial Weekend and August 22, 2019 for Labor Weekend
Please send $65 check to NIBGA Camping, 5034 Wapiti, Fort Wayne, IN 46804.
Instead of a check, send your payment with paypal to paypal.me/NIBGA  (be sure to use Friends & Family so there is no charge to NIBGA or you)
In return you will receive a voucher that can be used at the festival gate.

You may use this form: