Festival golf cart taxis:
Marianne Vogie will be  managing the TAXI service calls and volunteer scheduling.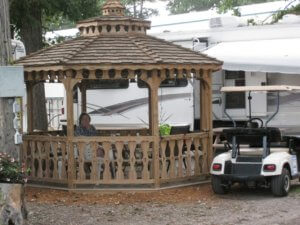 Sandra Carnes cannot attend the festival this fall.
Need a TAXI, CALL: 260-302-1555
DAYS: Thurs., Fri., Sat., and Sun.
HOURS: 1/2 hour BEFORE any stage show UNTIL the shows are over and the stage is cleared.
VOLUNTEERS (individuals with a valid driver's license) are ALWAYS welcome to drive a "Taxi" for a 2 hour shift. Sign-up sheets will be posted at the gazebo which is just north of the merchants building and across from Marianne's white Sunnybrook 5th wheel. Marianne asks anyone calling for a TAXI to stand outside your RV/site, so driver can easily spot you. THANKS!
Club Membership for 2017/2018
A single membership is just $10 and $15 for two at the same address. The membership and newsletters would start now allowing the holder to purchase weekend tickets to the Memorial and Labor day festivals at a $5 discount! Register and pay prior to May 23 to get a discount for a weekend ticket!
Find the membership form here or click on the "Become a member" icon
Click on the Kroger icon to learn more.
 Next NIBGA Jam  at the SWCC Oct. 15, 2017 
2017 some of the Labor Day weekend Bands