Eastern US mostly but we are expanding every month.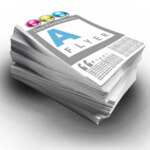 NIBGA has collected Bluegrass festival flyers from many sources and has published them in a searchable Evernote database. You can search the flyer database by a performer's name (Rhonda), the festival state (IN, IL, MI, OH and more), the year (2021, 2022), the month (January, February, etc.) or a combination of these. This will narrow the flyers you see to just those search results. (Evernote is an web application not associated with Northern Indiana Bluegrass.)
You can then print or just view whichever event you want. Some flyers are very large files but we did not create them. We just captured them. Flyers are presented as icons or as a table. The upper right area switches between those two views. If a flyer is a PDF you then have to click on the PDF to get it to expand.
Some events did not have a flyer so we just published info from their web site. You should note that these are static copies of the original sites and information. Most flyers have a place where you can click and go to the original.
The flyer database is being added to on a regular basis. Send us your flyer in PDF or JPG format for inclusion in the flyer database at no charge.
Click here to go to the NIBGA festival flyer database.
It will open in a new tab. If you are on a small screen (phone), click on the thumbnail image to enlarge it.
We would like to know if you feel this is valuable. Please contact us with your thoughts.
Send us a note and your flyer!